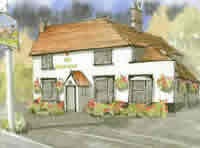 The Pheasant is a quintessential old English pub which first opened its doors in 1634. There is a plethora of beams and studs and a wonderful inglenook fire which burns all winter without ever going out.
We offer a full range of local real ales (Nethergate, Woodfordes, Fuller Smith & Turner), Mild at Christmas and a little summer ale for the spring. We have 6 house wines of excellent quality and a wine list of over 70 differing bins from vin ordinaire to 1st Grand Cru. We offer a traditional British menu ranging from shortcrust pies of various fillings, to fish, steaks, pork and lamb, lasagnes, burgers and much else besides. We aim to offer the best quality possible at affordable prices.
The décor is old fashioned and the walls adorned with photographs of the different characters who have frequented our establishment, over the years, some of whom are unfortunately no longer with us. Our customers vary hugely from all walks of life, and all ages, and we hope that there is a warm welcome for everybody. In the summer we have a large garden which is ideal for parties, with wonderful panoramic views to the north over Cambridgeshire and Bedfordshire.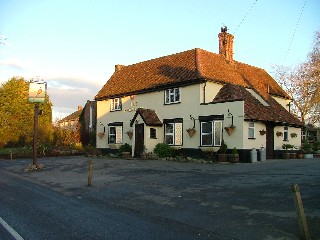 Ollie and I have been here for over 10 years now and have staged 7 beer festivals, one pantomime and a host of commemorative lunches including 60th and 65th anniversary of D Day, 60th of VE and VJ day, and of course our famous 11 Trafalgar day lunches, including the biggest – the 200th anniversary of the battle in October 2005, when the bell ringers rang muffled bells. They chimed the 'Lament Upon the Death of Nelson' first heard at Westminster Abbey at his funeral, in exchange for champagne payment later that evening. In 2002, in conjunction with the rest of the village, we staged a wonderful celebration for the Golden Jubilee at the playing fields, forming amongst other things, a 'one-off' village Morris team, which was broadcast on Anglia News.
Plans for the future? Who knows, but may be a small extension might be possible which would enable us to offer a facility for children which at the moment we do not have. After that? Probably a home for knackered publicans.
Simon and Ollie Oughton, Dec 2009